THIS IS WHAT SOLIDARITY LOOKS LIKE
RTBU members showed what solidarity looks like today. We turned up in our union apparel and badges, and the result was a serious show of force.
Here are just a few of the pictures that were sent into the union: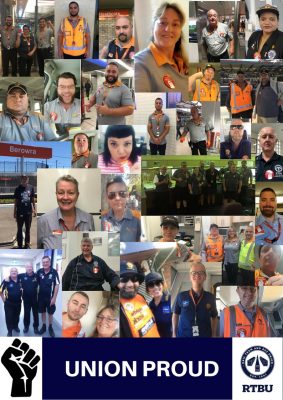 Our collective strength has been palpable today. In every depot, every station, every meal room, the signs of a united workforce were on show.
The action was also a hit with commuters, who are backing us every step of the way – those badges might become a collectors' item. Commuters can see what this Transport Minister is doing to our essential services. They know we deserve fair wages and conditions, and they know we need to take this action to get there.
NEGOTIATION UPDATE
The Transport Minister finally came to the table today, attending discussions with the RTBU, UnionsNSW and the combined rail union secretaries. While the talks were constructive, no offer was put on the table.
All parties have agreed to continue to work over the weekend and to meet again on Monday. We'll keep you updated on how those discussions go.
There is still no resolution to enterprise agreement negotiations, so the next action – the overtime ban on Thursday 25 Jan – is still on. We'll send through an update on the details of the next action shortly. In the meantime, head to the RTBU Facebook page https://www.facebook.com/RTBUNSW/ and check out some more of the photos of your RTBU comrades in action today.
Click here to download the bulletin.