The People's Inquiry into Privatisation: Giving communities a voice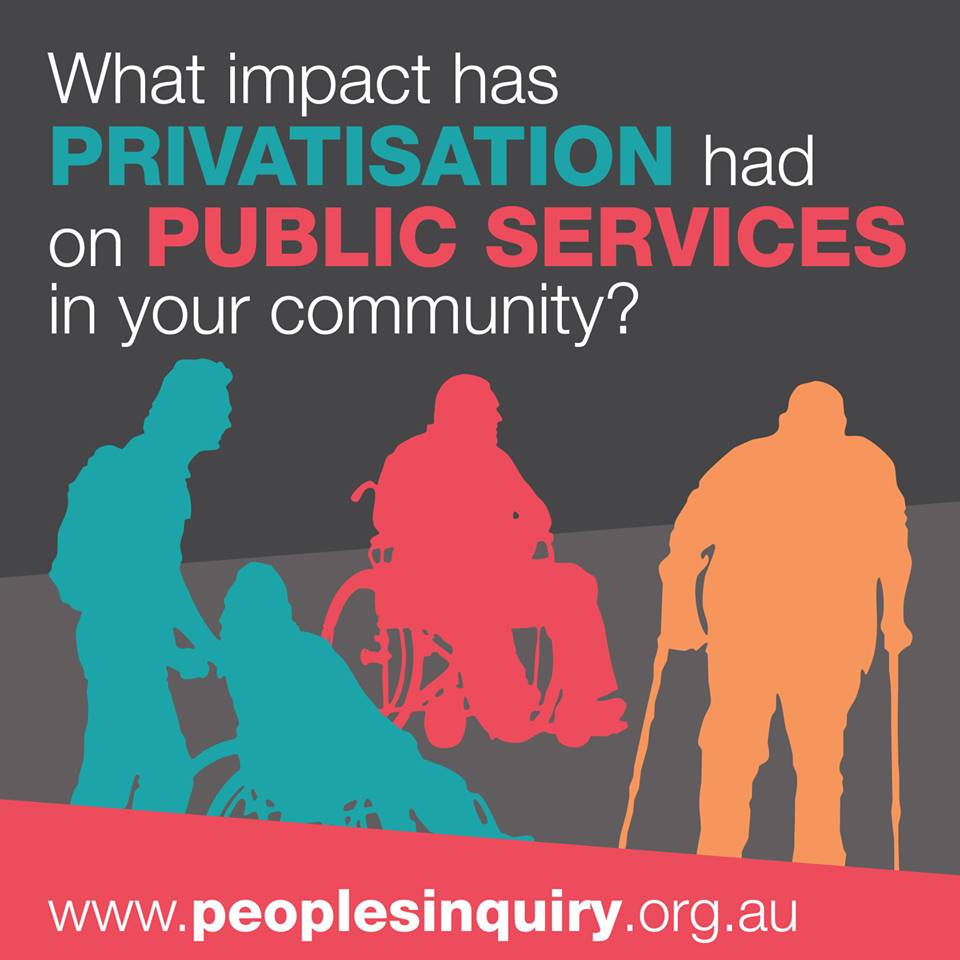 Politicians at all levels of government are recklessly privatising our public services.
Even the former head of the ACCC thinks it's gone too far saying that governments are using privatisation to "maximise profits at the expense of consumers and businesses."
When public assets are sold off to private buyers, quality of service drops, there is less accountability and transparency, and important services are taken out of public hands.
Now the Turnbull government has directed the Productivity Commission to conduct an inquiry into how to further privatise our public services – without looking at whether handing over control of our services to corporations is in the best interest of all Australians. This just isn't good enough.
We believe communities should have a say over how their services are run and what services they need: that's why we've joined with other unions and organisations to call for a People's Inquiry into Privatisation.
The People's Inquiry, chaired by David Hetherington, will travel around the country talking to communities about the impact of privatisation, and the types of public services they need.
The inquiry will be conducting hearings in New South Wales, and it would be great to get as many RTBU members involved as possible to show our support for keeping services in public hands, and fighting against the privatisation that is already threatening fellow members at ARTC and Newcastle Buses.
The inquiry wants to hear about your experiences, and the impact of privatisation on communities around the country. Show your support for by coming along to one of the following hearings:
Newcastle public hearing
Monday, September 05, 2016 at 04:00 PM
Travel Lodge Hotel Newcastle in Newcastle, Australia
If you live in Newcastle, we want to hear from you
Wollongong public hearing
Tuesday, September 06, 2016 at 04:00 PM
Novotel Wollongong North Beach in Wollongong, Australia
If you live in Wollongong, we want to hear from you
Sydney public hearing
Thursday, September 08, 2016 at 04:00 PM
Mercure Hotel in Sydney, Australia
If you live in Sydney, we want to hear from you
To get involved in the inquiry, make a submission or attend a public hearing, visit: http://www.peoplesinquiry.org.au/ or check out the Facebook page at www.facebook.com/peoplesinquiryintoprivatisation