RTBU WOMENS COMMITTEE URGES MEN TO STAND UP TO VIOLENCE AGAINST WOMEN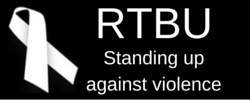 The Liverpool White Ribbon Express is pulling into the station with the annual awareness day to end violence against women just around the corner.
The RTBU Women's Committee will be hosting a market stall, and all members of the union and the community are encouraged to attend.
White Ribbon Day Stall
Date:              Wednesday 25th November 2015
Time:              5am to 9am
Venue:           Liverpool Station Concourse
Grab a sausage sizzle or a piece of cake before the workday, or pop by and pick up an early Christmas present.
Enjoy the music of the unions own "South West Rail Band", with lots of entertainment (belly and Bollywood) by Department of Education staff and Train Crew.
This year, the RTBU will be joining Liverpool/Green Valley Health and NSW Police in marching against violence.
White Ribbon Day March
Date:              Wednesday 25th November 2015
Time:              10am to Noon
Venue:           Edwin Wheeler Reserve, Maxwell Avenue, Miller.
Come along and show your support for White Ribbon Day, and that you stand up to violence against women.
For more information, contact Ragini Nauru on 0425 172 676.