RTBU NSW – Christmas wrap up
Dear members,
What an incredible year it's been. Firstly, I want to congratulate every single member for being part of a massive year of growth and success here at the RTBU.
As you read some of the highlights below, it's a great reminder of just how much our members and delegates of the RTBU has achieved in one year, and how incredible our people are.
We kicked off 2018 taking up the biggest industrial fight of the year, and possibly the biggest dispute at Sydney and NSW Trains in decades.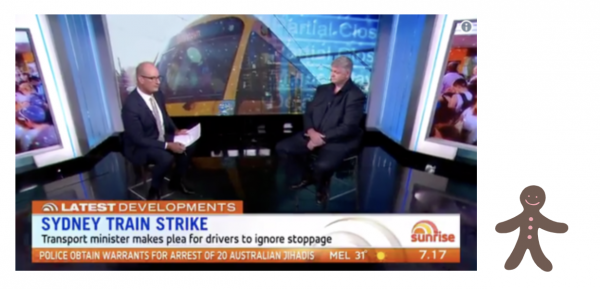 When a disastrous timetable was introduced by the NSW Government in November 2017, we told the media for months that the new timetable would be unable to deal with incidents, and would soon fall apart. And exactly as we warned, in January those cracks started to show. The poorly designed timetable, combined with an under-resourced system, meant that the network couldn't recover from incidents and caused extreme delays and cancellations right across the state. Commuters had a right to be angry at the NSW Government, and so did we.
I made appearances on morning and evening news almost every day in the month of January to speak up on behalf of the transport workforce, because our members are prevented from speaking to media because of their code of conducts.
You can click here to check out some of the media coverage we had.
The commuting chaos soon overlapped with an industrial battle, when after 6 months of negotiating, the Transport Minister still refused to come to the table and offer Sydney and NSW Trains workers a fair EBA. That's when, together, we decided to vote to undertake a range of industrial action. First we began with simply wearing badges to show our solidarity and power in numbers, which soon escalated to an overtime ban. The 6-hour overtime ban showed commuters just how poorly under-resourced the system was, that a train network couldn't survive when the workforce simply stuck to their normal shift times!
But a day before we planned to take industrial action by withdrawing our labour which was legally approved, the NSW Government used the Fair Work Commission to steal our right to strike from us. This is despite a Channel 7 public poll showing 71% of participants supported workers striking to get a fair deal.
Despite having our right to strike taken from us, we continued negotiating and won an Agreement that busted the government's wages cap with a 3% pay rise for all Sydney and NSW Trains workers. Congratulations to all members involved for sticking together during this challenging but successful fight.
You proved what we can achieve when we are united and don't back down, even though the rules were clearly stacked against us. We came out of this fight bigger and stronger than ever.
Just a few months later our strength in numbers shone bright as the RTBU saw an unprecedented turnout at the May Day rallies across the state as we filled the streets with our red and white t-shirts. We also had an incredibly inspiring speech by our RTBU delegate Giovanna Bonelli, who spoke about the right to strike being taken from her and her workmates– and why it is exactly the reason we all need to stand up and fight together, to Change The Rules.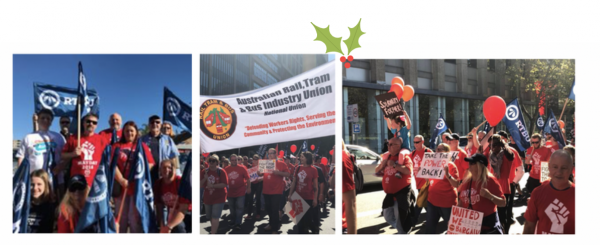 Not only did we bust the state wages cap at Sydney and NSW Trains, the RTBU also beat the federal wages cap at ARTC Infrastructure where members won a secure new Agreement with no cuts, better pay increases, and more rights after two hard years of negotiation. So congratulations to our members and delegates at ARTC for a very long, tough and drawn out fight, this win was very well deserved.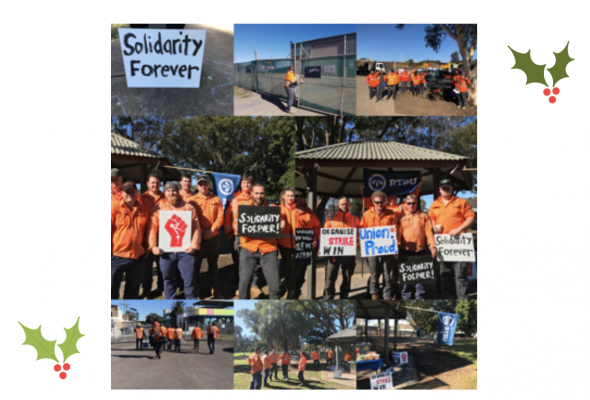 I'd also like to congratulate all our members who have supported and participated in the We Won't Wait campaign for 10 days domestic violence leave. By being a part of this Unions NSW campaign, we achieved a great win in November by pressuring the NSW Government to provide 10 days paid domestic violence leave to every public sector worker in the state! We've also been working to include domestic violence leave in our Agreements that we're negotiating across the divisions as a way of assisting victims of domestic violence to get help.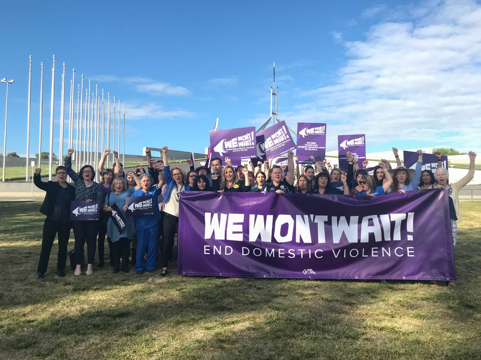 However it's important to remember that domestic violence shouldn't even be happening in the first place – so the best thing we can do is to make domestic violence a problem of the past. Domestic violence has got to stop.
One of the great Agreements we also secured this year where members fought for domestic violence leave was at Airport Link, where we secured 5 days paid and 5 days unpaid domestic violence leave, alongside pay increases of 15% over 4 years and 17.5% for station controllers.
In 2018 we've also seen freight drivers join the union in astonishing record numbers as Pacific National, Aurizon, Qube and a number of other companies started EBA negotiations, many of which are still underway.
At, Transport for NSW, our members have also started preparation for Award negotiations.
After years of the NSW Government planning to remove guards from the New Intercity Fleet, this year we finally got a commitment from the NSW Transport Minister that the new trains will have guards. This is a huge turnaround from the position that the NIF Committee have been battling with NSW Trains for years. While we're yet to see the commitment in writing, it's a win for all drivers, guards and everyone else involved in keeping our tracks safe.  Thank you also to Blind Australian of the Year, Martin Stewart, for speaking up with us against the removal of guards and helping us secure this win. While we await the detail of the commitment in writing, we've escalated the matter by taking it back to the Fair Work Commission to speed up management's delayed process.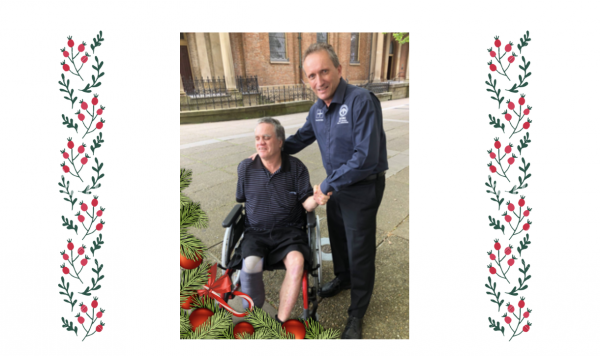 Another great win this year has been our workshops and stations members securing additional permanent positions – so well done to everyone involved.
It was also great to see our members at the Rail and Emergency Response Unit (RERU) finalise a long running claim for the underpayment of their penalty rates.
Congratulations also to our signallers for securing a commitment from management on a targeted recruitment of Indigenous Australians.
We've also been present in Canberra this year by securing a strong Agreement for the new Canberra trams, and workers are already joining the RTBU!
It was fantastic to see the RTBU Women's Committee host a Women's Rights at Work Day with a range of new activists turning up who are ready to take up the fight in their workplaces across the state. I'm proud to lead a union with so many active female voices, so congratulations to all. I really look forward to witnessing the incredible difference our united power will make in 2019.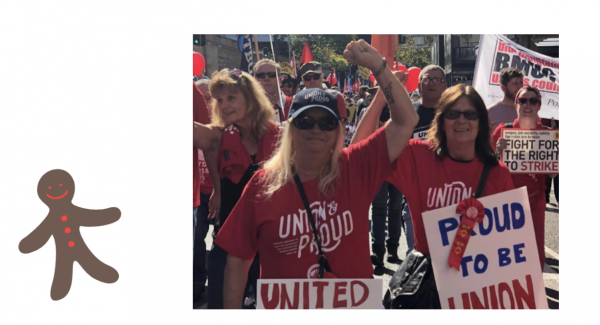 And these are just some of the many great wins that you, the members and delegates of the RTBU, have achieved this year.
Thank you also to all members who participated in the RTBU union elections, and congratulations to everyone elected – particularly for those elected in their positions for the first time. It was a great honour and privilege to be re-elected by you and, as always, I will continue to take great pride in representing our membership over the next four years.
Together, this year we have improved pay and working conditions for hundreds of thousands of workers across the state and that is a feat that we can all be incredibly proud to be a part of. I have no doubt that with continued hard work and a unified front, the RTBU will go on to achieve many more wins and triumphs in the years to come. With a state and federal election coming up in 2019, and our industrial rights continuously on the chopping block by Liberal Governments, there are certainly challenges coming our way. But if we are united and loud, we can win. I look forward to taking up these challenges with you all in 2019.
Lastly, I'd like to wish all members a very Merry Christmas and a happy new year, and enjoy a safe and joyful festive season with the people you love. I'd like to especially acknowledge our members who are working over Christmas and New Years to keep the travelling public moving safely.
In Solidarity,
Alex Claassens,
RTBU NSW Secretary