RTBU front and centre at the NSW Labor Conference
The Rail, Tram and Bus Union was right in the middle of the action at this year's NSW Labor Conference.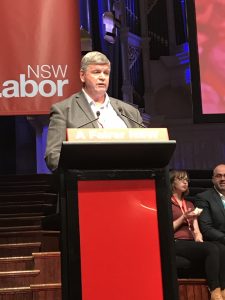 It was a very significant conference for the trade union movement, with the Leader of the Opposition, Luke Foley, announcing a five-point plan to tackle worker exploitation and wage theft. Luke put union issues at the centre of Labor's pitch to voters for the next NSW election.
The RTBU has been fighting hard for many of the reforms that Luke announced.   Our Union was also at the forefront of Conference debates around issues such labour hire, privatisation, safety, transport infrastructure and addressing domestic violence.
Major wins for the RTBU at the NSW Labor Conference included:
Labour Hire Licensing
The RTBU proposed the introduction of a labour hire licensing scheme, along the same lines as the scheme currently being introduced in Queensland. This scheme would be designed to make sure workers engaged through labour hire companies receive the same pay as employees.
The RTBU policy, which was passed unanimously, committed a future Labor Government to:
Develop a licensing scheme for labour hire providers, with penalties for enterprises and organisations which use unlicensed providers; and
Introduce a mandatory code of conduct for labour hire providers, with breaches of the code punishable by removing the provider's license to operate in NSW.
Luke Foley then picked up the RTBU's policy, promising to make Labour Hire Licensing a reality.
Labour hire firms tendering for Government business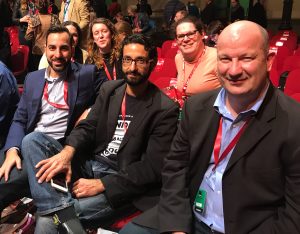 Labour hire firms pitching for government contracts will need to meet new standards under a Labor Government. The RTBU and the AMWU successfully moved a policy to require labour hire firms to have Enterprise Agreements with their employees that meet industry standards before they can be considered for government work. This will have a huge impact on labour hire firms competing for government work in places like Sydney Trains and NSW Trains.
Privatisation
Labor has doubled down on its opposition to the privatisation of public assets, including the so-called "franchising" of public transport services.
An RTBU resolution condemning NSW Transport Minister Andrew Constance, and committing Labor to keep of Sydney's public buses in public hands, was passed unanimously.
New Intercity Fleet and Guards
A number of unions, including the RTBU, argued for Labor to commit to building trains in NSW rather than importing them from overseas. An RTBU resolution condemning the State Government for sourcing then New Intercity Fleet from South Korea was passed unanimously. The resolution also committed a future Labor Government to:
Supporting the local rail manufacturing industry by maximising local content in train procurement; and
Retaining Train Guards on all suburban and intercity rail services.
Rail Safety
NSW Labor has committed to retaining strict fatigue management regulations, such as mandatory maximum shift lengths for rail workers. An RTBU policy supporting recommendations of Inquiries into past rail tragedies in NSW, including the Waterfall disaster, was passed unanimously.
Public Transport Safety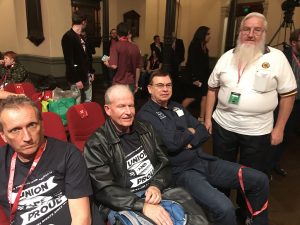 NSW Labor committed to working with the RTBU to tackle violent and anti-social behavior on public transport. The Conference endorsed an RTBU policy committing a future Labor Government to:
Increase the number of Transit Officers and security staff on the public transport network;
Introduce tough penalties for people who assault, harass or threaten public transport workers; and
Consult with public transport workers on other measures to improve their safety at work.
Termination of Enterprise Agreements
Ever since Aurizon went to the Fair Work Commission to terminate 12 separate Enterprise Agreements with thousands of workers, companies across Australia have been lining up to use this tactic in order to get an upper hand in enterprise bargaining negotiations.
The RTBU has been campaigning to close the legal loophole that allows employers like Aurizon to terminate agreements and throw workers back onto Award safety net pay and conditions.
The RTBU put forward a resolution calling on NSW Labor to work with a future Federal Labor Government to introduce laws that remove the ability for employers to terminate an agreement, except when all parties to the Agreement consent to its termination. The resolution was supported unanimously.
Rail infrastructure in Western Sydney
The RTBU has put a new orbital rail line through the outer western suburbs of Sydney, connecting with the new airport at Badgerys Creek, firmly on the agenda of a future Labor Government. The RTBU received unanimous support for its proposal, which commits NSW Labor to:
Consider an orbital rail corridor linking the South West and North West rail links, and intersecting with the Western Line;
Work with Federal Labor to deliver a rail link to the Western Sydney Airport; and
Look at funding mechanisms such as value capture to help pay for new rail infrastructure.
Good jobs and economic fairness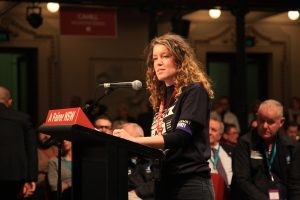 The RTBU and other unions made jobs and fairness a central theme of the economics debate at the Conference. The RTBU spoke in support of a resolution committing a future Labor Government to:
Restore Sunday and public holiday penalty rates;
Introduce legislative protections to ensure employers do not misclassify workers as independent contractors in order to bypass and undercut employment conditions, particularly in the so-called "gig economy";
Make wage theft a criminal offense; and
Restore right of entry access to provide unions with the right to investigate and prosecute suspected cases of wage theft.
Tackling Domestic Violence
Tackling Domestic and Family Violence was a major theme of the Conference. The RTBU supported a motion committing a future Labor Government to provide all public sector workers with access to up to ten days Domestic Violence Leave a year, and Union NSW Secretary (and RTBU member) Mark Morey spoke on this important debate.
The RTBU also worked with the ASU to put forward a policy for developing a comprehensive whole-of-government response to domestic violence, to ensure victims get the support they need. Importantly, our joint proposal also committed a future Labor Government to increasing funding for domestic violence prevention programs – so we put an end to the scourge of domestic violence in our community.
Rental Affordability
Housing affordability is a major issue across NSW, and particularly in Sydney where real estate prices are among the highest in the world. The high cost of housing puts more pressure on renters, who are often at the mercy of real estate agents and landlords. The RTBU supported a motion calling for new residential tenancy laws that:
Protect the rights of all private tenants;
Remove no grounds evictions;
Prohibit punitive and discriminatory practices, including rent bidding, by landlords; and
Explore strengthening protection and rights for pet owners.
Cultural Heritage
The Eveleigh Rail Precinct is one of the most important culturally important heritage sites in NSW. The maintenance of this site is particularly important to the history of Union, so former RTBU NSW State Secretary Nick Lewocki successfully moved a resolution calling on a future Labor Government to ensure the Eveleigh Rail Precinct is fully protected as a public asset into the future.
Conversion of the Bankstown Line
A number of ALP Branches submitted resolutions dealing with the conversion of the Bankstown line to run single deck metro trains, along with the huge increase in the number of apartment blocks along the line. With the help of the RTBU, these resolutions were combined into one, which stated that NSW Labor:
Supports investment in public transport;
Understands that the lack of public transport for Western Sydney is a critical issue of social equity;
Prioritises construction of a Western Sydney Metro;
Categorically opposes the Berejiklian Government's one-size-fits-all rezoning along the Sydenham to Bankstown Line;
Supports tackling congestion in the Inner West by adding services for the Inner West Light Rail service to increase capacity and retaining Region 6 buses under the operation of the State Transit Authority; and
Condemns the Liberal Government for failing to justify the expenditure of $12.5 billion to rip up an existing rail line that is not yet at capacity and replace it with a metro line.
Life Member: Ken Sullivan
Former RTBU Organiser Ken Sullivan was recognised for his long-standing contribution to NSW Labor with Life Membership. Ken is a popular former Mayor of Goulburn, and a champion of the labor movement in the Goulburn region. Our congratulations go to Ken and his family.