New Surry Hills Light Rail Unveiled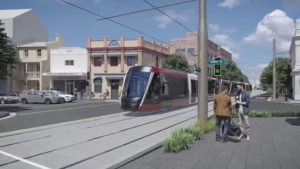 Daily Telegraph: THE first glimpse of the changes light rail will bring to Surry Hills was unveiled this morning as the project passed halfway mark.
Transport Minister Andrew Constance promised pedestrian-friendly footpaths and pocket parks, outdoor dining and a green corridor would bring Devonshire St alive and provide a new connection with Moore Park.
The new images were released today after work started last weekend on the installation of a new light rail bridge over the Eastern Distributor, which is expected to be completed by the end of the week. Read more here.