May Day 2018 – Join us!
The RTBU NSW will be attending this year's May Day event in full force, and we want as many members to come along and join us on Sunday, May 6th. There are plenty of other events happening around the state if you can't make the Sydney rally, so check them out below.
What is May Day?
May Day is an annual day of action to celebrate the achievement of our union movement and workers' rights across the world.
For us at the RTBU NSW, it's our time to stand up against this Liberal Government – in particular – Andrew Constance. Our workforce has been consistently under attack with the Liberal Government's obsession with privatisation and driving down the workforce. This year the right to strike was taken from us, so now more than ever, we must stand up and fight back. Sunday May 6th is the day to do it.
We'll be joining together to march with our friends and family through the streets of Sydney with a BBQ and an afternoon of family fun, so please join us.
100 FREE RTBU MAY DAY SHIRTS
Want a RTBU NSW May Day 2018 t-shirt? Be one of the first 100 to RSVP to the rally and you'll get a shirt. RSVP by emailing nswho@rtbu-nsw.asn.au so you can get your shirt. Get in quick!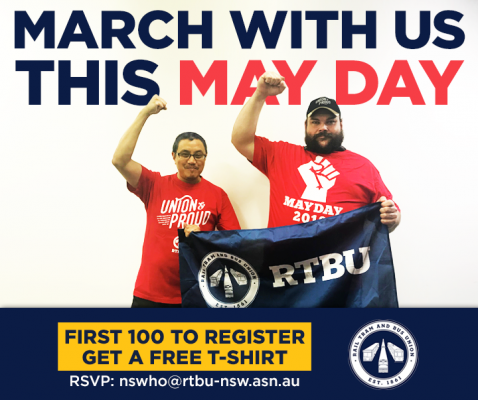 Please find below details of the various May Day events for Sydney, South Coast and Newcastle: 
Sydney
May Day Toast
6:00pm Tuesday, 1 May 2018 at NSW Teachers Federation, 23 Mary Street Surry Hills,
May Day March
11:00am Sunday, 6 May 2018, Assemble meet Hyde Park North  (Archibald Fountain)
March to Prince Alfred Park off Chalmers Street followed by Family Fun Day with free rides, entertainment, activities for kids and food
South Coast
May Day Toast
6:00pm Friday, 4 May 2018 at Wollongong City Diggers Club, Church St,
Tickets: $25 concession and $45 for full waged. RSVP to mail@sclc.com.au by Wednesday 25th April. All payments to: The South Coast May Day Committee.
May Day March
10:00am Saturday, 5 May 2018, Assemble 10am at Lowden Square, Wollongong
 (Outside the Trade Union Centre – Opposite Wollongong Train Station)
 March to the Wollongong Mall Amphitheatre for Rally
Newcastle
May Day Toast
7:00pm Saturday, April 2018, Hunter Workers Toast To May Day 
3rd Floor Terrace, Hunter Unions Building, 406 – 408 King Street, Newcastle West
        For further information please contact Leigh Shears, Campaigns Organiser on 0401 798 002
May Day March
10:00am Sunday, 29 April 2018, Assemble Hamilton Train Station Carpark,
 March down Beaumont Street to Gregson Park for BBQ and Speeches.