Life membership for John and Rodney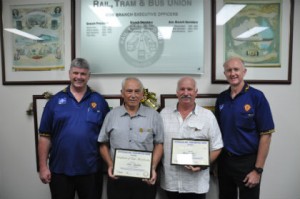 Two very deserving long-term RTBU members – John Aquilina (Wollongong) and Rodney Short (Newcastle) – were recently presented with Life Membership of the union at a Locomotive Divisional Council meeting.
Both John and Rodney held long and distinguished careers as Train Drivers with a majority of their careers holding various elected positions in the AFULE and RTBU.
John retired with 48 years' service and Rodney 44 years.
John was joined at the presentation by his Wife Connie and Rodney was joined by his Partner Trish.
Rodney's long standing "partner in crime" and retired life member Bruce Matthews also made the trip to be in attendance at the presentation.
Numerous Divisional Council Delegates joined both Divisional Secretary Bob Hayden and Branch Secretary Alex Claassens in congratulating both John and Rodney on their retirement which included a few light hearted stories from their careers.
Both John and Rodney still keep an active watch on what's happening in their previous depots, the division and union, and continue to provide assistance and support to the new Depot Organisers and fellow members when asked.
On behalf of the Locomotive Division once again we congratulate both John and Rodney on their retirement and Life Membership of the RTBU.