Alex Claassens addresses Sydney Lantern Walkers to Fix NSW Transport
On Saturday the 11th of August, workers and commuters across Sydney came together for a Lantern Walk through the streets of Sydney in protest of this NSW Government's erosion our public transport.
At Sydney Town Hall, RTBU NSW Secretary Alex Claassens addressed protesters. Read below for a copy of his speech.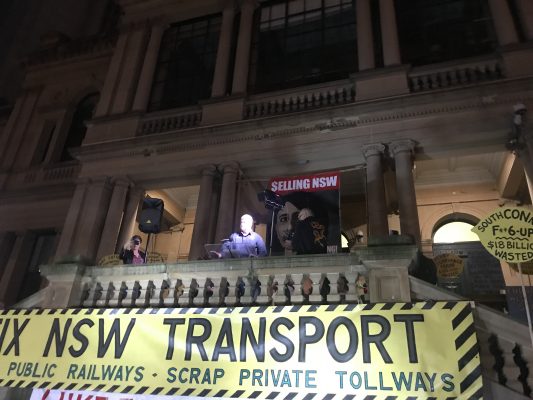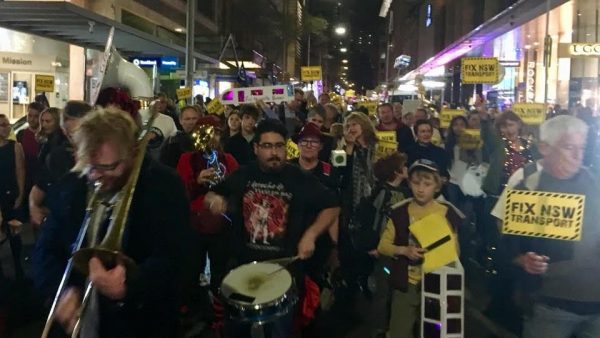 —–
Thank you to everyone for coming out tonight.
I'm Alex Claassens, the Secretary of the Rail, Tram and Bus Union NSW.
I'm a transport man to the core. I've worked in the industry all of my life and I've seen lots of government's make many transport decisions – some of them good, some of shocking.
But in all my time I've never seen our transport system in as bad a mess as it is today.
Andrew Constance has been Transport Minister for since 2015.
In that time, he's managed to:
rip the heart out of our public transport system;
regularly and aggressively attack the hard-working men and women of the transport industry;
and waste millions of taxpayer dollars on ideological projects that don't work for anyone.
Let's look at just a few of the shocking moves that have led us here today:
Newcastle
The Transport Minister rolled into Newcastle one day, claiming that he was going to make the public transport system there the best in the world.
Fast forward a couple of years and Newcastle's transport system is joke.
The once handy rail line that ran from Sydney straight into the middle of town has been ripped up.
The once reliable bus system has been replaced by a private system that has left children and people with a disability unable to catch buses. Stops have been closed, routes have been altered.
The whole system is a mess.
Then we've got the light rail
We don't actually know what's going on with the light rail because the government refuses to tell us when to expect it, what to expect and how much of our hard-earned money has been spent on it.
All we do know is that it's way over budget and the timeline has blown out considerably.
Buses
This is a classic example of our Transport Minister's disdain for commuters and workers.
After watching what a dismal failure of his bus privatisation in Newcastle, he arrogantly decided to subject the people of the inner-west to the same thing.
Commuters said they didn't want it; we – the workers didn't want it
But this man doesn't care for facts or for the needs of commuters.
He doesn't care that we've already seen services in the area cut. Or that just a couple of weeks ago we saw images of a bus driving around with masking tape holding it together – a classic example of private companies putting profits ahead of safety.
He cares so little about those things that he's declared he wants to privatise even more of our bus services.
Then there's our trains
Where do you start with our trains?
None of us can forget the timetable debacle – a classic example of this government's arrogance.
They introduced a timetable without consulting workers on how it would actually work – a timetable that relied on workers forced overtime to make it work.
Then, when it failed
He tried to blame the workers – those people working the forced overtime – and kept saying it was their fault.
What a joke.
And, now we're dealing with his latest plan and that is to take guards off our trains – which is the worst idea I have ever heard off.
Guards that keep our trains running on-time and keep us safe but more importantly they are the first staff to respond whenever there is an incident on our trains. They assist passengers with a disability or anyone else who needs help to use our public transport safely and confidently.
To think that this Transport Minister would even consider this attack on safety shows how out of touch he is.
It shows that this NSW Government doesn't give two hoots about the needs of commuters.
Then in a few months he will close the Epping – Chatswood line for months on end so that they can handover our assets to a Hong Kong company so they can put in a new privatized system that will carry fewer passengers and in my opinion will be far less safe with no drivers, guards or station staff.
Seriously. If it wasn't so serious it would be laughable.
But it's not.
The safety of commuters is no laughing matter.
The safety of workers is no laughing matter.
Inconveniencing thousands of commuters every day is no laughing matter.
I'm not laughing, and I'm sure you're not either.
And I haven't even scratched the surface of all the debacles this government has been responsible for.
I haven't even had time to mention Ferry McFerryface, WestConnex, the 'on-demand' buses that are costing taxpayers $180 per person, per trip and a whole range of other things.
I'm not entirely sure what drives this government's decision making when it comes to transport – whether it's pure incompetence or something more sinister – but what I do know is that it's not working.
And it's time they heard that loud and clear.
That's why events like this one are so important.
That's why it's so important that we make all as much noise tonight as we can, and that we keep making noise until we get action.
I'm going to give you three things that you can do to help fix our transport mess.
FIRSTLY – get your phone now and sign up to ourtransport.org.au. We're building a community of people, just like you, who want a better transport system. We need to join together to push for change and our transport is a vehicle for that.
SECONDLY – Keep turning out to events like this. We need to show the government that we won't stand by and watch our transport system be attacked.
AND THIRDLY – Use your vote wisely at the next State Election and let's get rid of this incompetent transport minister once and for all.
This is just the beginning. We all need to stand together – people from every corner of this state and say enough is enough.
We won't sit back and let this government attack our transport any longer.
NSW deserves better public transport; and let's not stop until we get it.